The markets closed up on Friday, with the S&P finishing above 1,500 after being fueled by a series of strong earnings reports.
At the close: DJIA: +0.51%, S&P 500: +0.54%, NASDAQ: +0.62%.
On the commodities front, Oil (NYSE:USO) was relatively flat at $95.99 per barrel. Precious metals were down, with Gold (NYSE:GLD) falling 0.73 percent to $1,657.70 per ounce, and Silver (NYSE:SLV) falling 1.65 percent to $31.20 per ounce. The yield on the 10-year T-bill climbed 0.094 points to 1.945 percent.
Here's your cheat sheet to today's top stock stories: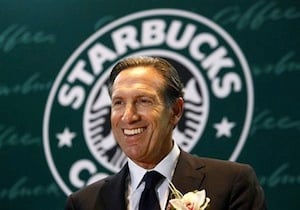 Starbucks (NASDAQ:SBUX) closed up 3.2 percent for the week, with all of those gains coming on Friday following strong first-quarter results. Earnings came in at $0.57 per share, which met expectations. Revenue came in at $3.8 billion, an increase of 11 percent year-over-year. Starbucks reaffirmed its outlook for the year, which is EPS between $2.09 and $2.15. This would represent growth of between 15 percent and 20 percent… (Read more.)
Apple (NASDAQ:AAPL) lost its status as the largest U.S. publicly traded company by market value during the trading day on Friday to Exxon Mobil (NYSE:XOM) as its shares continued to fall. With Apple falling 2.36 percent on the day to $439.88, its market value stood at roughly $413 billion. Exxon, with its shares largely flat on the day at $91.73, had a market value above $418 billion… (Read more.)
Netflix (NASDAQ:NFLX) climbed an additional 15.5 percent on Friday after surging 42 percent on Thursday following its fourth-quarter results. The company smashed expectations and embarrassed the bears with one hand, while laying the foundation for future growth with the other… (Read more.)
Yahoo (NASDAQ:YHOO) will release its fourth-quarter earnings on Monday after the markets close, and analysts are expecting the report to round off a fourth consecutive year of decreasing revenue. Expectations are that revenue will drop about 10 percent for the year to $4.6 billion as the company continues to lose advertising dollars to competitors… (Read more.)