Apple (NASDAQ:AAPL) recently celebrated its six-year anniversary of the iPhone. At Macworld 2007, Steve Jobs unveiled the smartphone that contained only one physical button. He stated, "Every once in a while a revolutionary product comes along that changes everything." The statement turned out to be true, as the iPhone is the most popular electronic item in the United States this year.
Should you buy or sell Apple's stock ahead of earnings this month? Our 20-page proprietary analysis will help you save time and make money. Click here to get your SPECIAL REPORT now.
According to Statista, a leading statistics research company, the iPhone is the most sought after consumer electronic product in 2013. In a survey conducted in late 2012, the iPhone ranked first with 23.5 percent of consumers saying they were somewhat or very likely to buy the device this year. A smartphone with Google's (NASDAQ:GOOG) Android came in second with 21.6 percent. In comparison, Desktop PCs, Android tablets and E-Readers ranked towards the bottom.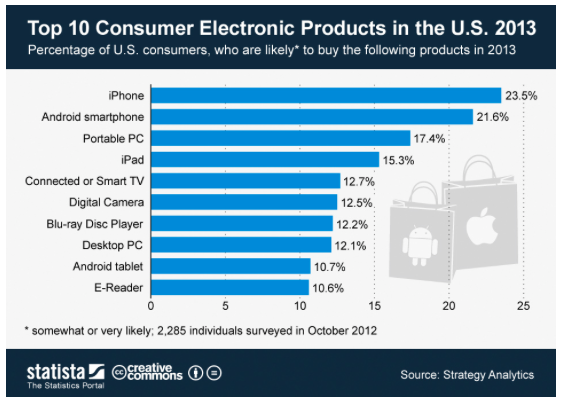 Start 2013 better than ever by saving time and making money with your Limited Time Offer for our highly-acclaimed Stock Picker Newsletter. Get our fresh Feature Stock Pick now!