S&P 500 (NYSE:SPY) component Apple (NASDAQ:AAPL) will unveil its latest earnings tomorrow, Wednesday, January 23, 2013. Apple offers a range personal computers, mobile devices, and portable digital music and video players. The company also sells related software, services, peripherals, and networking solutions.
Apple Earnings Preview Cheat Sheet
Wall St. Earnings Expectations: The average analyst estimate is for profit of $13.44 per share, a decline of 3.1% from the company's actual earnings for the year-ago quarter. During the past three months, the average estimate has moved down from $15.66. Between one and three months ago, the average estimate moved down. It has risen from $13.42 during the last month. For the year, analysts are projecting net income of $48.76 per share, a rise of 10.4% from last year.
Past Earnings Performance: Last quarter, Apple missed estimates by 18 cents, coming in at profit of $8.67 per share against an estimate of net income of. In the third quarter of the last fiscal year, the company also missed expectations.
Start 2013 better than ever by saving time and making money with your Limited Time Offer for our highly-acclaimed Stock Picker Newsletter. Click here for our fresh Feature Stock Pick now!
A Look Back: In the fourth quarter of the last fiscal year, profit rose 24.2% to $8.22 billion ($8.67 a share) from $6.62 billion ($7.05 a share) the year earlier, but fell short analyst expectations. Revenue rose 27.2% to $35.97 billion from $28.27 billion.
Here's how Apple has traded over the past 3 months ahead of its big earnings release on Jan 23rd: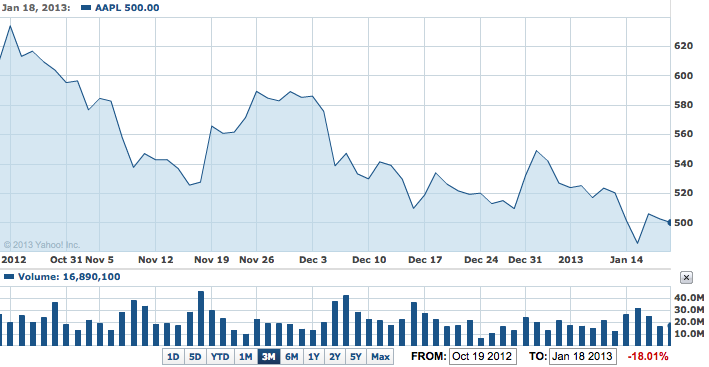 Should you buy or sell Apple's stock ahead of earnings in a few days? Our 20-page proprietary analysis will help you save time and make money. Click here to get your SPECIAL REPORT now.