There is still no indication of how bad things could get for Apple (NASDAQ:AAPL) before they start getting better. The selling pressure that has refused to leave the stock's side over the last few months was still going strong on Friday, and it pushed the company to a new notable low.
In afternoon trading, Apple briefly touched a new 52-week low of $431.28, also the stock's lowest point since January 24, 2012, when it closed at $420.50 in anticipation of the company's fiscal first-quarter earnings report, according to CNN Money. That low point in 2012 was short-lived. With Apple reporting record sales of 37 million iPhones, the stock zoomed $37.50 higher in after-hours trading.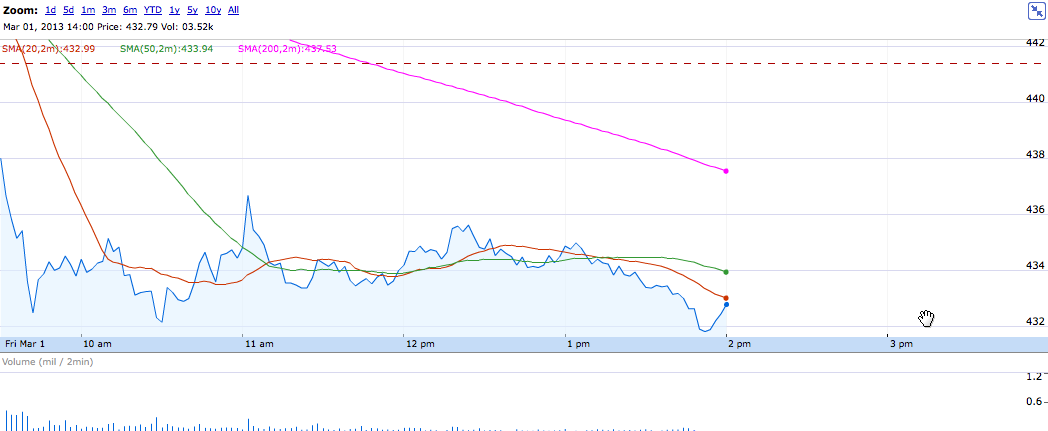 There were no signs of a surge back up on Friday, with the stock reportedly dipping as anticipation for the launch of rival Samsung's (SSNLF.PK) Galaxy S4 smartphone continues to grow. The growing threat from the company's many rivals has been putting pressure on Apple's stock for months now.
Credit Suisse analyst Kulbinder Garcha mentioned the pressure from Samsung in a research note on Friday, saying a new Galaxy S4 could gain share in the high-end market. Garcha also cut his iPhone estimates for the full year after saying that the Apple smartphone may receive a refresh in mid-2013, which will cause a hesitancy effect on demand and cause the company to keep the supply chain lean.