Bank of America (NYSE:BAC): Current Price $12.07
Bank of America (NYSE:BAC) has settled its dispute with Fannie Mae regarding residential mortgage loans sold to the latter around the time leading up to the 2008 financial crisis. Bank of America will buy back some of those loans for $6.75 billion and also make a payment of $3.6 billion payment. It also sold the servicing rights on 2 million residential mortgage loans with an aggregate unpaid principal balance of $306 billion. "Together, these agreements are a significant step in resolving our remaining legacy mortgage issues, further streamlining and simplifying the company and reducing expenses over time," said Bank of America CEO Brian Moynihan.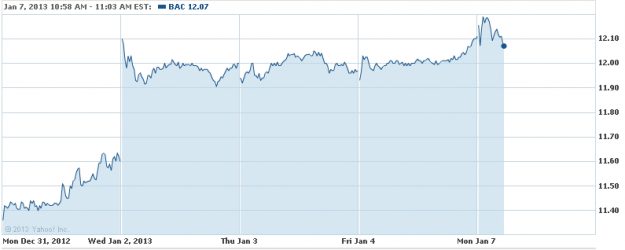 Save time and make money with our LOWEST ADVERTISED PRICE EVER to help you achieve your financial goals in 2013. This is a LIMITED TIME OFFER, so get your Stock Picker Newsletter now!