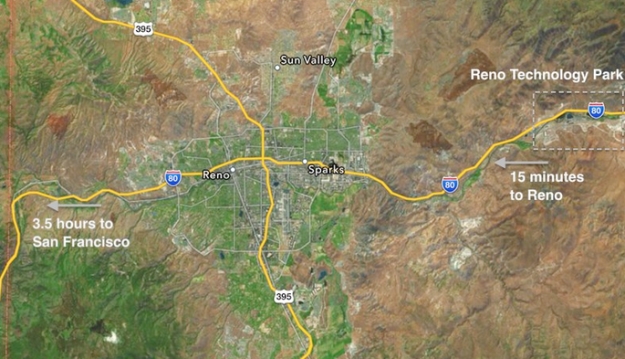 Reno, Nevada is already known to many Apple (NASDAQ:AAPL) aficionados as the home of Braeburn Capital, the asset management company that handles Apple's massive $135 billion cash hoard. However, as Apple Insider reports, there is something else that Apple is doing in the Nevada desert besides saving its money.
In anticipation of the expected large-scale consumer expansion into cloud computing, Apple has begun construction of a massive data center site located about 15 miles east of Reno. Apple's Kristin Huguet stated via Apple Insider that the data center in Reno will "support Apple's iTunes Store, App Store, and incredibly popular iCloud services." The project is expected to cost over $1 billion.
Whereas Apple located Braeburn Capital in Reno because of the state's lack of corporate income tax, several other different factors made Reno an attractive location for Apple's data center site.
Although Nevada does have relatively low property and sales taxes (thanks to incentives approved by the local government), Apple was mostly interested in the availability of high-speed fiber optic conduits that are necessary for large data centers.