In a positive sign for the popularity of Apple's (NASDAQ:AAPL) latest mobile operating system, iOS 7 has already claimed a relatively high percentage of Apple device Web traffic during the two days after its debut. Ad firm Chitika looked at all iPhone and iPod touch traffic on its North American network and discovered that Apple's iOS 7 beta accounted for 0.22 percent of all ad impressions on those devices.
Although this doesn't seem like a large percentage, Apple's iOS 6 beta accounted for only 0.11 percent of traffic over a comparable period last year. However, the iOS 6 traffic share percentage was also lower because that operating system debuted on several models of iPad and not just the iPhone and iPod touch.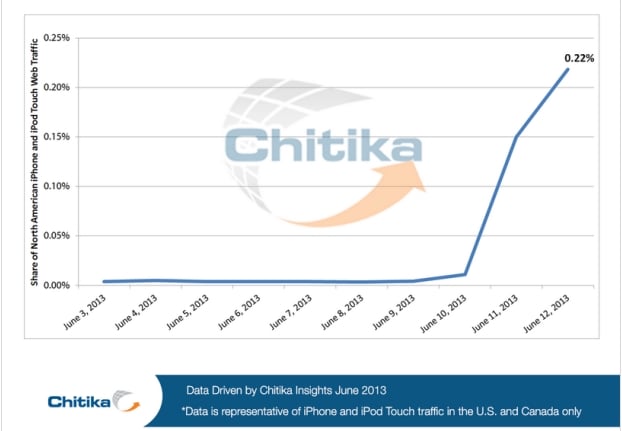 Chitika noted that, "The more radical design change, and its potential impact on existing applications, could be driving this behavior. Alternatively, the new interface could be spurring users to browse more frequently."
Chitika's study of iOS 7 usage covers the period from June 3 to June 12. Apple's iOS 7 debuted Monday, June 10 at the Worldwide Developers Conference.