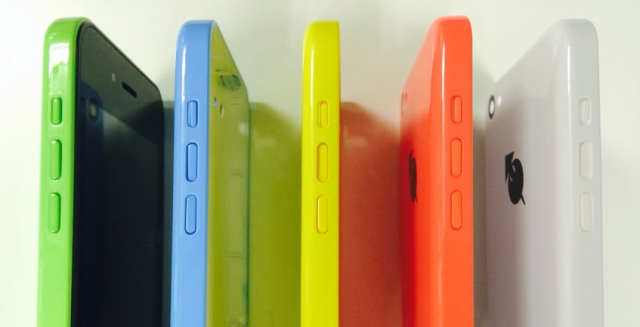 In what appears to be another sign of the iPhone's wild popularity in Japan, a Japanese company has recently released an Android-based smartphone that copies the iPhone 5C's distinctive design, reports CNET. As seen in the official Iosys website image above, the "ioPhone 5" is offered in the same five colors as Apple's (NASDAQ:AAPL) iPhone 5C. According to Japanese tech site Ascii.jp, the ioPhone 5 became available on Friday, December 20. A video promotion for ioPhone 5 can also be seen below.
The ioPhone 5's resemblance to the iPhone 5C starts and ends with the brightly-colored plastic shell. Not surprisingly, the ioPhone 5 runs the Android 4.2 operating system instead of Apple's iOS 7. However, the Japanese knockoff also trails Apple's mid-range smartphone in every possible technical specification.
As noted by Japan's Ascii.jp website, both devices feature 4-inch LCD screens. However, the ioPhone 5 only has an 854 x 480 pixel resolution at 245 ppi (pixels per inch), while Apple's iPhone 5C boasts an 1136 x 640 resolution at 326 ppi. The ioPhone 5 camera also lags in photographic capabilities with a 2 megapixels camera instead of the iPhone 5C's 8 megapixels camera.