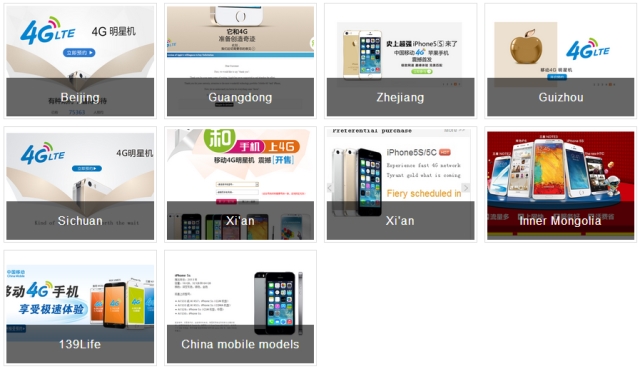 Although the long-rumored distribution deal between Apple (NASDAQ:AAPL) and China Mobile (NYSE:CHL) has yet to be officially announced, the Chinese carrier appears to be moving ahead with its iPhone launch promotions. As first reported by Chuck Jones at Forbes, a Canada-based Apple watcher who uses the Twitter (NYSE:TWTR) handle @MichDuss has found at least ten separate China Mobile landing pages that feature Apple's iPhones.
As seen in the image above, @MichDuss has also created a website that provides links to each page. Many of the pages appear to be directed at specific Chinese cities, provinces, and regions, including Beijing, Guangdong, Zhejiang, Guizhou, Sichuan, Xi'an, and Inner Mongolia.
As previously reported by Apple Insider, China Mobile's Beijing webpage was launched over a week ago and has been taking online preorders for the iPhone 5S since December 12. The Beijing Apple page also features a counter that has already surpassed 75,000. According to the Wall Street Journal's translation of the page, the counter represents the number of people that have reserved an iPhone 5S.