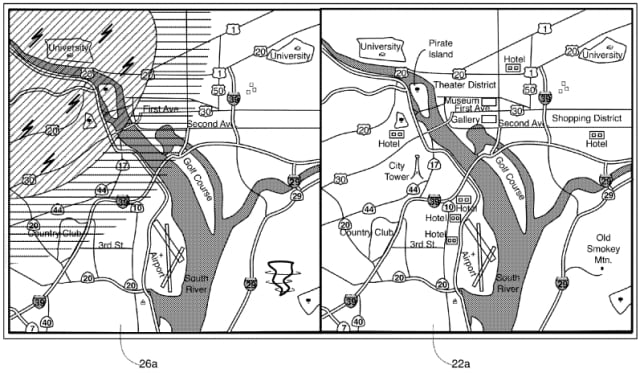 A recently published Apple (NASDAQ:AAPL) patent uncovered by Apple Insider outlines additional interactive features that may be incorporated into the company's native mapping application. In a patent titled "Interactive Map," Apple expands on many of the features that are currently available in Apple Maps.
One feature is the ability to display a map with a "plurality of different layers of information, wherein each layer contains a respective type of information." As noted by Apple in the patent background, "While the amount of information that can be stored or accessed within an electronic computing device enables a user to obtain different maps, depending on the user's interest at any given time, it is necessary for the user to switch among different applications in order to view various types of information that may be of interest."
By allowing users to combine multiple "layers" of different types of mapping information, they can customize their electronic maps based on multiple criteria. For example, someone could superimpose a weather map over a map that provides the nearest restaurant or shopping mall locations. This would allow that person to keep track of an approaching storm while simultaneously looking for a place where to take refuge until the storm passes.