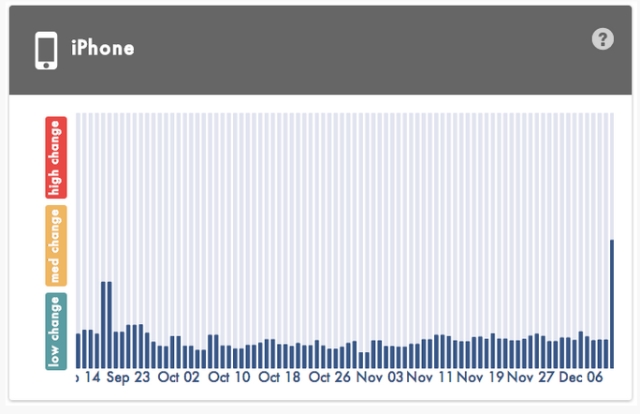 Apple (NASDAQ:AAPL) appears to have adjusted its App Store search algorithm for at least the second time this year. As first reported by App Store optimization and app marketing company MobileDevHQ via TechCrunch, the changes have had a significant impact on many apps' rankings in the App Store. As seen in MobileDevHQ's graphic above, the algorithm changes sparked more iPhone app ranking shifts than the launch of iOS 7 in September.
MobileDevHQ uses an algorithm monitoring tool known as Sonar that is able to detect major shifts in Apple's App Store rankings. Sonar operates by sampling approximately 30,000 search keywords every day and recording the app rankings that are returned. On Friday, Sonar detected an unusual level of app ranking fluctuations in the App Store.
For example, iPhone apps moved an average of 41.5 positions — about eight times more than normal, according to MobileDevHQ. Around 40 percent of all the apps that were related to the keywords that Sonar checked moved at least 20 positions. As noted by MobileDevHQ, typically only 3 percent of App Store apps experience daily ranking swings that significant. The changes for iPad apps were slightly less drastic with an average ranking shift of 20.8 positions, or about four times the normal rate of change.