Although financial conditions have managed to recover from the credit meltdown with the help of the Federal Reserve, fewer than one in four Americans have enough savings to cover expenses for at least six months.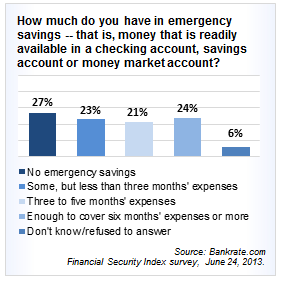 Between high unemployment rates and stagnant wages, many people in the country lack the funds to protect themselves from financial hardships. According to a new survey from Bankrate.com, only 24 percent of Americans have enough money set aside to cover expenses for half a year. Even worse, 50 percent of people polled do not have enough savings to last for three months, while 27 percent have no emergency savings at all. Twenty-three percent said they had some savings, but less than three months' expenses.
Financial advisors often advocate an emergency savings fund of around eight to twelve months. The simple reason for this is that it takes the average unemployed person about 37 weeks to find a new job. That is below the high of 41 weeks seen in recent years, but well above historical standards of 10 to 20 weeks.