"Android is clearly the undisputed volume leader of the smartphone industry at the present time," Strategy Analytics' Neil Mawston said in a statement. "Android's challenge for 2013 will be to defend its leadership, not only against Apple, but also against an emerging wave of hungry challengers that includes Microsoft (NASDAQ:MSFT), [Research In Motion (NASDAQ:RIMM)] BlackBerry, Firefox, and [Intel's (NASDAQ:INTC)] Tizen."
The overall market was made of 217 million smartphone shipments, a 38 percent growth from the 157 million shipped in the same quarter in 2011. For the full calendar year, there were never-before 700 million shipments, up from 490.5 million in 2011. However, growth in shipments fell to 43 percent from 64 percent as markets such as North America and Western Europe increasingly become saturated.
Here's how Apple (NASDAQ:AAPL) and Google (NASDAQ:GOOG) traded on Monday: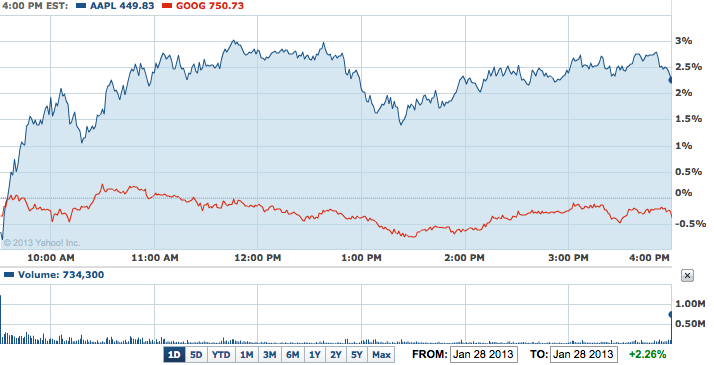 Don't Miss: Is Apple Adding to the iPad?