When it comes to the smartphone platform in the U.S., Google's Android came in on top with a market share of 53.4 percent in the fourth quarter, up 0.90 percent from the third quarter. Apple maintained second place and increased its market share 2 percent to 36.3 percent. BlackBerry (NASDAQ:BBRY) ranked third with 6.4 percent market share, down 2 percent. Microsoft (NASDAQ:MSFT) also lost market share, while Symbian was flat from the previous quarter.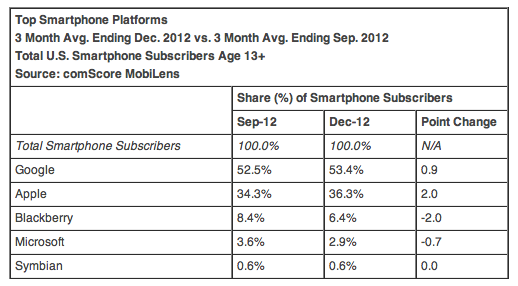 Although comScore finds BlackBerry to be ahead of Microsoft, Strategy Analytics reports that Microsoft Windows Phone overtook BlackBerry operating system to become the third largest smartphone platform in the U.S. during the fourth quarter.
Further clouding the race for the number three spot, BlackBerry released a statement on Wednesday claiming its new smartphone had an impressive showing in foreign markets. "In Canada, yesterday was the best day ever for the first day of a launch of a new BlackBerry smartphone. In fact, it was more than 50 percent better than any other launch day in our history in Canada," said Thorsten Heins, BlackBerry President and CEO. "In the UK, we have seen close to three times our best performance ever for the first week of sales for a BlackBerry smartphone."
Investor Insight: Are Facebook Users Becoming Less Interested?