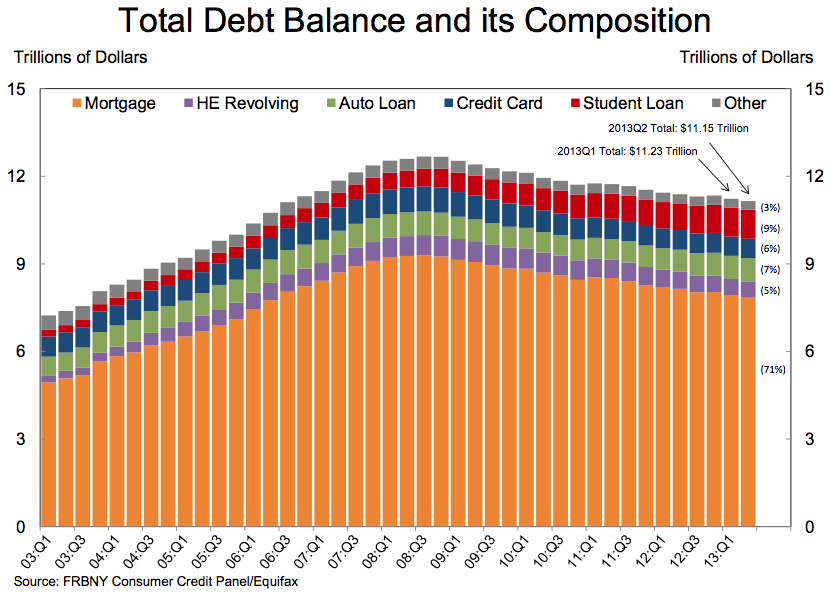 America is known for being the largest debtor nation in the history of the world, but consumers are slowly finding a way to deleverage.
Consumers across the country are in less debt than they were earlier this year. According to the Federal Reserve's latest Household Debt and Credit Report, total outstanding household debt declined $78 billion to $11.15 trillion in the second quarter. That is the lowest level since 2006 and 12 percent below the peak of $12.68 trillion in the third quarter of 2008. A large part of the decline was due to housing-related debt, but Americans are increasing their liabilities in other areas.
"Although overall debt declined in the second quarter, households did increase non-housing debt, led by rising auto loan balances," said Andrew Haughwout, vice president and research economist at the New York Fed. "Furthermore, households improved their overall delinquency rates for the seventh straight quarter, an encouraging sign going forward." While total mortgage debt decreased, total auto loan balances rose $20 billion from the previous quarter, representing the ninth consecutive quarterly increase and the biggest jump in seven years. In fact, auto loan debt has climbed $108 billion over the past nine quarters to recapture $800 billion for the first time since 2008.