With shares of General Electric (NYSE:GE) now trading at $21.06, is GE a BUY, a WAIT and SEE, or a STAY AWAY?
Let's analyze the stock with the relevant sections of our CHEAT SHEET investing framework: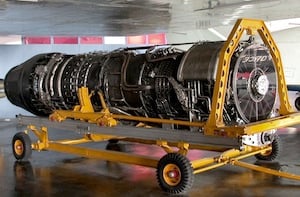 C = Catalyst for the Stock's Movement
General Electric, the giant conglomerate that has its fingerprints on a variety of global industries, released earnings Friday, October 19 that showed modest gains in income and revenue, yet failed to meet analysts' expectations.  Company leadership chalked up the results to challenging global economic headwinds, but stressed the company's confidence in its ability to realize growth.
One particular concern that could affect stock prices is the tenuous position of global alternative energy, a market which has been slow lately in the face of a renewed interest in more traditional oil and gas sources.
However, there are potential catalysts in other areas like the medical equipment industry.  GE recently announced plans to channel investments to developing new medical equipment in Japan, a country the company believes is ripe for state-of-the-art product advancements.
H = High Quality Pipeline
When it comes to being recognizable, diversified, and known for delivering consistently quality products, GE is practically second-to-none. The company has stood the test of time and its commitment to innovation continues to drive the conglomerate into new industries and advance its existing ones.
A = A-Level Management Runs the Company
GE has a history of strong leadership, and its current Chief Executive is no exception.  Jeff Immelt, the well-respected CEO who was picked by GE's Board of Director's in 2000 to replace the legendary Jack Welch, has done a fine job steering the ship.  His employees like him, too.  According to glassdoor.com, 81 percent of the 356 employees polled approve of Immelt, an impressive figure compared to those of some of his peers.
T = Technicals on the Stock Chart are Solid
As of October 31, 2012, the stock price is 5.44 percent below its 20 Day Simple Moving Average; 3.35 percent below the 50 Day SMA; and 5.86 percent above the 200 Day SMA. Since the beginning of 2012 the stock price has been in an upward trend and is up 20.55 percent year-to-date and up 26.41 percent year over year.
E = Earnings Are Mostly Steady Quarter over Quarter
GE's earnings have jumped around a bit over the last four quarters, and the most recent quarterly number of 33 cents per share showed a slight dip from the previous quarter's 34 cents per share and a solid increase from the year over year EPS of 23 cents per share.
Since earnings are generally holding steady to increasing quarter-over-quarter, and GE's size makes it unlikely to suffer drastic falls, the stock just fits into our risk portfolio.
T = Trends Support the Industry in which the Company Operates
The catch here is that in GE's case, there are always going to be industries that are hurting and industries that are growing because the company deals in such a broad range of markets.
One industry to keep an eye on is alternative energy, where declines in the number of wind turbine orders have dragged the larger infrastructures business down 5 percent.
However, when one goes down, another goes up.  The slowdown in alternative energy has gone hand-in-hand with a renewed global interest in more traditional sources like oil and gas. Sure enough, GE is present in that industry as well and prepared to capitalize on growth potential.  Oil and gas earnings at GE went up 19 percent in the last quarter.
Conclusion
Diversity has to be considered a strength of GE's.  Because the company deals in so many different industries, it has built-in insulation against any one industry turning sour.
That said, it is still very much affected by the state of the overall global economy, as GE leadership was careful to point out when discussing the latest earnings.
"The overall environment remains challenging, but GE continues to execute on our growth strategy," said CEO Immelt. "The global economy is uncertain, and we are prepared for a variety of economic outcomes."
The mindset at GE seems to be to stay the course and weather the storm, and that's probably good advice for investors, as well.
Let's call GE a WAIT AND SEE based on the key metrics above.
Using a solid investing framework such as this can help improve your stock-picking skills. Don't waste another minute — click here and get our CHEAT SHEET stock picks now.