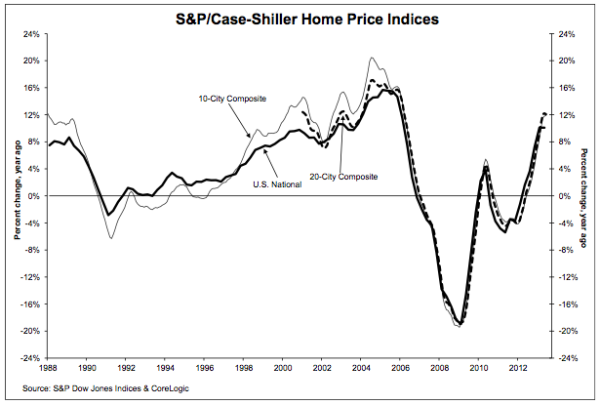 Despite higher mortgage rates and a sluggish economy, home prices in the United States continue to climb higher. However, a reduction in the pace has some wondering if the recovery in real estate is cracking. Single-family home prices increased once again in June, but the pace was slightly slower.
According to the S&P/Case-Shiller composite index of 20 metropolitan areas, which is a three-month average, home prices rose a seasonally-adjusted 0.9 percent in June from May after gaining 1 percent in May. On a non-seasonally basis, prices climbed 2.2 percent.
All 20 cities posted gains on a monthly and annual basis. Compared to last year, the 20-city composite jumped 12.1 percent in June, slightly below estimates and the 12.2-percent gain in May – the best reading in over seven years. Economists expected home prices to increase about 12.2 percent in June.