Eating food is practically the national pastime, especially considering that America is the most gluttonous country in the world. The Great Recession placed many budgets on a strict diet, but Americans appear to be busting out their wallets and waistlines once again.
The strength of the economy is one of the most debated topics in finance. Economic reports across the world continue to show that growth is sluggish at best. However, consumers are still willing to spend money when it comes to dining out. The National Restaurant Association's latest Restaurant Performance Index -= which tracks the health and outlook for the industry =- hit 101.8 in May, representing a 0.90 percent increase from April and a fresh 14-month high.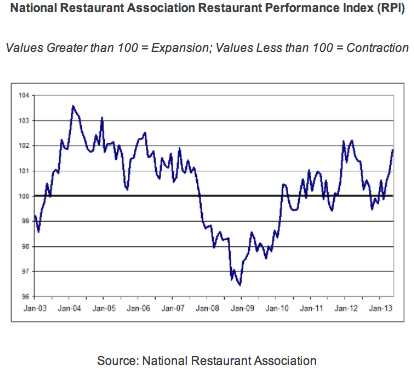 After a slow start to the year, the index has now posted three consecutive monthly gains. May was also the third straight month of a reading above 100, which signifies expansion, while a reading below represents contraction.