Toyota Motor Corp (NYSE:TM): Current Price $94.67
An impending boardroom shuffle at Toyota Motor Corp (NYSE:TM) is likely to implement the long expected elevation of Vice Chairman Takeshi Uchiyamada, who spearheaded the development of Toyota's Prius hybrid car, to the position of Chairman, though a final decision is yet to be made. Toyota watchers claim, however, that this is unlikely to upset the the power base of president Akio Toyoda as "It's a case of a pro-Akio executive replacing another Akio supporter as chairman. This isn't going to change the whole scheme of things at Toyota," according to Reuters.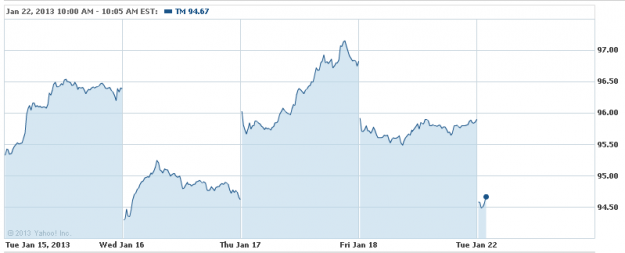 Start 2013 better than ever by saving time and making money with your Limited Time Offer for our highly-acclaimed Stock Picker Newsletter. Click here for our fresh Feature Stock Pick now!