In efforts to keep interest rates grounded, the central bank began buying up mortgage and treasury debt to quicken the economic recovery and spur more immediate hiring to keep unemployment levels in check, following a near total collapse of the markets in 2007 and 2008. Since this time, the central bank has been purchasing these assets at a rate of $85 billion per month.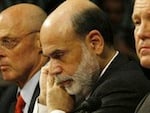 Today, Federal Reserve Chairman Ben Bernanke addressed concerns with this program, which have been mounting recently, as a fear that the strategy will destabilize the financial system grows amongst the Fed's ranks.
Bernanke reached out to critics who fear that the continuous bond buying will raise inflation rates and cause asset bubbles. In the hearing, he acknowledged that the central bank was aware of the potential risks associated with the program, but their analysis of the situation concluded that the risks did not seem material at the moment, adding the central bank has all the tools it needs to retreat from its monetary support in a timely fashion, Reuters reported.