Biomimetic Therapeutics (NASDAQ:BMTI): Closing Price $7.74
BioMimetic Therapeutics said that it has received an informal request for clarification from the FDA comprised of six questions, some with multiple subparts, linked to the Augment Bone Graft Pre-Market Approval review. The firm explained that "These questions focused on the specific characteristics and etiology of the bone defects treated in the pivotal trial, an assessment of the medical relevance, or lack thereof, of certain protocol deviations, further information relating to the recently supplied operative notes and specific statistical clarifications. BioMimetic said it is supplying a response to individual questions as each response is completed and that the responses "will further support the safety and efficacy of Augment." Shares closed up 1.84 percent on the day at $7.74, having been traded in a 52-week range of $1.87 to $7.85.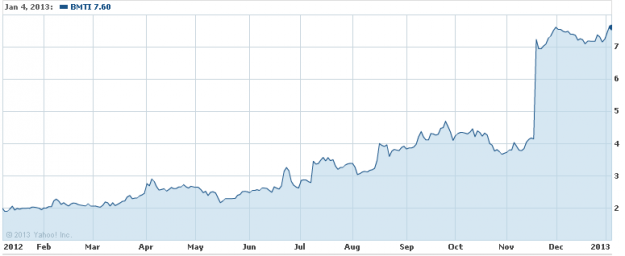 Save time and make money with our LOWEST ADVERTISED PRICE EVER to help you achieve your financial goals in 2013. This is a LIMITED TIME OFFER, so get your Stock Picker Newsletter now!