In afternoon trading yesterday, shares of Arena Pharmaceuticals Inc. (NASDAQ:ARNA) were halted due to pending news. The announcement? The company won approval by the Food and Drug Administration for its weight-loss drug lorcaserin. It is the first obesity medication cleared for sale in the United States in 13 years.
Lorcaserin affects an area of the brain that helps people eat less and feel full after eating only small amounts of food. "Obesity threatens the overall well being of patients and is a major public health concern," Janet Woodcock, director of the FDA's Center for Drug Evaluation and Research, said in a statement, according to Bloomberg. "The approval of this drug, used responsibly in combination with a healthy diet and lifestyle, provides a treatment option for Americans who are obese or are overweight and have at least one weight-related comorbid condition."
Don't Miss: Is Orbitz Defending This BIASED Sales Strategy?
A large amount of investors expected Arena to receive approval today. The Street's latest FDA Drug Approval Contest received record participation from investors who were asked to predict the likely outcome of five significant FDA events expected in June and July. The previous contest had a respectable success ratio of 60 percent in the predictions thrown up by its participants. In the study, Arena Pharmaceuticals' anti-obesity lorcaserin drug received a 46 percent expected approval rate.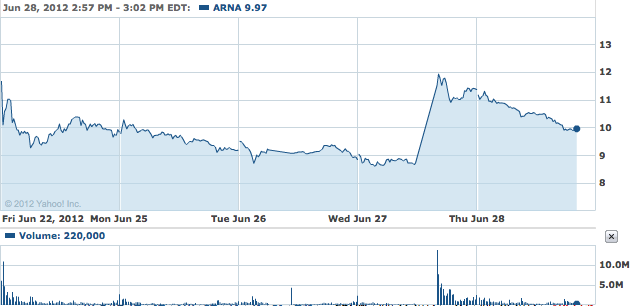 As the chart above shows, shares were halted at $8.73, down more than 1 percent on the day. However, once shares resumed trading at 1:45 p.m. EDT, shares instantly popped more than 40 percent to climb above $12. Prior to the news, Arena shares had gained almost 400 percent year-to-date.
The FDA approval announcement also had a side-effect on other drug companies such as VIVUS Inc. (NASDAQ:VVUS) and Orexigen Therapeutics, Inc. (NASDAQ:OREX), which jumped 7 percent and 20 percent, respectively Wednesday. Vivus is currently developing a competing weight-loss drug and is expected to receive an approval decision from the FDA on July 17. Meanwhile, Orexigen is in the process of making a weight-loss drug called Contrave.
Arena shares have turned lower today, dropping over 10 percent as of 3:12 a.m. EDT.
Investor Insight: Is Gold a Zero Risk Financial Asset?