With shares of CSX Corp (NYSE:CSX) trading at around $20.99, is CSX an OUTPERFORM, WAIT AND SEE or STAY AWAY? Let's analyze the stock with the relevant sections of our CHEAT SHEET investing framework: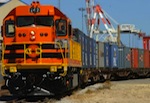 C = Catalyst for the Stock's Movement
CSX beat on the top and bottom line, which is a big reason why the stock is up over 3 percent so far today. Revenue came in at $2.90 billion versus an expectation of $2.85 billion. EPS came in at $0.43 versus an expectation of $0.39. However, revenue did drop slightly year-over-year. EPS remained steady. Sales dropped 2.3 percent year-over-year. Gross margins expanded, and operating margins and net margins dropped. For next quarter, revenue is expected to come in at $2.96 billion, and EPS is expected to come in at $0.42. Nothing out of the ordinary here.
For the last quarter, CSX saw an increase in merchandise and intermodal shipments, but those increases were more than offset by declines in coal. For next quarter, CSX expects strength in intermodal, chemicals, forest products, and phosphate & fertilizer. CSX expects weakness in agricultural products, metals, export coal, and domestic coal.
Now let's take a look at some important numbers for CSX prior to forming an opinion.