With shares of First Solar, Inc. (NASDAQ:FSLR) trading around $32.01, is FSLR an OUTPERFORM, a WAIT AND SEE, or a STAY AWAY? Let's analyze the stock with the relevant sections of our CHEAT SHEET investing framework:
C = Catalysts for the Stock's Movement are Positive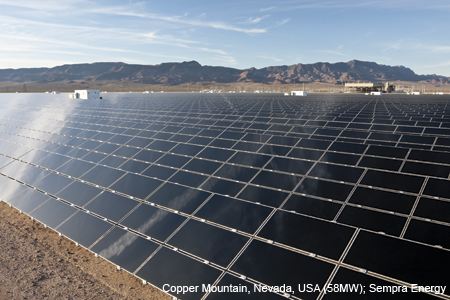 If you follow the industry, then you know that solar stock charts look like the profiles of the wildest of roller coasters. They typically come with high beta values — 1.53 for First Solar — and are driven more by short-term catalysts and market psychology than many other stocks.
After suffering a 73 percent gut-floating descent between February and June of 2012, the high-speed amusement ride that is First Solar's stock is once again gaining altitude. And tons of it. The stock came up 172 percent between June 1 of 2012 and January 11 of 2013.
Start 2013 better than ever by saving time and making money with your Limited Time Offer for our highly-acclaimed Stock Picker Newsletter. Get our fresh Feature Stock Pick now!
But this rally comes loaded with a few caveats. Over 44 percent of the stock's float was shorted as of December 31, and the stock is 75 percent institutionally owned. Insiders also own a substantial amount of the stock. A lot of people are placing bets on this company — and the industry at large — with a lot of different angles.
All things considered, First Solar had a decent 2012. The stock is, of course, still way off from its highs of just a few years ago, but the company bagged some big projects and strengthened its position through some smart management and some convenient tariffs levied against Chinese solar imports (more on that when we get to trends).
In what is no doubt both a blessing and a curse, a holding company owned by Warren Buffett's Berkshire Hathaway recently purchased the world's largest permitted solar installment — the 579-megawatt Antelope Valley Solar Projects, worth as much as $2.5 billion — from SunPower Corp. (NASDAQ:SPWR), another American solar company.
One one hand, it's a sign of strength for a competitor. On the other, many investors saw this purchase as a big fat stamp of approval for the industry.
Keep an eye out for First Solar's fourth-quarter results, scheduled to be announced on February 26. At a glance, analysts are expecting earnings of $1.77 per share, a 40.5 percent bump over non-GAAP net income per fully-diluted share for the same period last year. (It's important how this is calculated, because as we'll see in the earnings section later, fourth-quarter 2011 EPS was -$4.74 on a GAAP basis.)
E = Equity-to-Debt Ratio is Close to Zero
First Solar's debt-to-equity ratio of 0.15 looks good no matter how you shine a light at it, and it looks even more attractive when compared to its major competitors. SunPower Corp. clocks in with a debt-to-equity ratio of 0.74, while Suntech Power Holdings Co. Ltd. (NYSE:STP), a major Chinese manufacturer, comes to the table with a ratio of 2.84.
Looking at total debt and total cash on hand, First Solar appears to be a high roller within its industry. The company has a war chest of $716.99 million and is sitting on $530.21 million in debt. This compares to SunPower with $377.13 million in cash and $827.44 million in debt, and Suntech with $473.7 million in cash and $2.26 billion in debt.