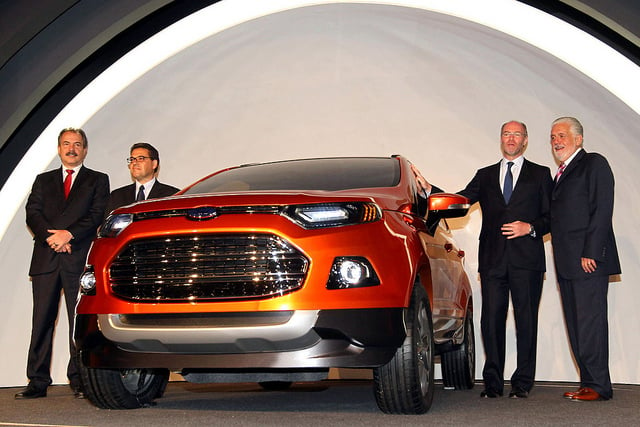 Ford Motor Co (NYSE:F) is forecasting big things for its operations in China, the world's largest car market. The Dearborn, Michigan-based carmaker became China's fastest-growing major foreign automaker this year, and the company is expecting its sales to outpace the industry in 2013.
Competing with foreign competitors Toyota Motor Corp (NYSE:TM) and Volkswagen AG in China's hyper-competitive auto market, the Michigan-based automaker is expecting its China passenger-vehicle sales to increase 8.5 percent, for a total of about 16.8 million units in 2013, on par with the China Association of Automobile Manufacturers's estimates. The sales surge would align with the success Ford has already seen in the first five months of 2013 in China. The automaker's shares rose 48 percent, placing Ford in front of its competitors.
Ford's Focus compact, EcoSport, and Kuga sport-utility vehicles are the main attractions for Chinese drivers right now, and the automaker's success in the region is likely to continue, especially as it introduces the Mondeo sedan and the Sync AppLink, an interactive feature that Bloomberg explains, "allows drivers to use smartphone applications through voice commands." To customize these mobile apps for its Chinese consumers, Ford will work with Baidu.com Inc. (NASDAQ:BIDU) and Sina Corp (NASDAQ:SINA).