A = A-Level Management Runs the Company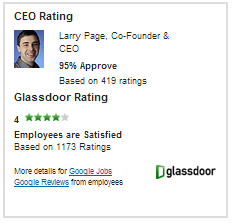 Sometimes it's easy to forget that behind great companies are great leaders. While it may be an overstatement to say that Google's executive team is populated with mad geniuses, the hyperbole is based in truth.
At the top of Google's corporate ladder is the triumvirate of Larry Page (CEO and co-founder), Sergey Brin (director of special projects and co-founder), and Eric Schmidt (Executive Chairman).
Eric Schmidt: Impressed by Schmidt's success at Sun Microsystems, where he started as a software manager and rose through the ranks to become president of Sun Technology Enterprises, Page and Brin hired him to run the company in 2001. Schmidt served as CEO until 2011, until he stepped aside to assume the roll of executive chairman. (Fun fact, from 2006 to 2009, Schmidt served on Apple's board of directors. Obviously, a conflict of interests got in the way.)
Early on, armed with a Ph.D. in electrical engineering and computer sciences from U.C. Berkley, Schmidt did some time in R&D at Bell Labs and Xerox's (NYSE:XRX) Palo Alto Research Center. He has served on the board of trustees for both Carnegie Mellon University and Princeton University, and was a campaign adviser for President Barack Obama.
It's hard to overstate the clout this guy has in the political sphere. Obama considered him for Commerce Secretary and chief technology officer to the administration. He currently serves as a member of the President's Council of Advisors on Science and Technology. Most recently, he embarked on a trip to North Korea for so-far unnamed reasons.