Football season is nearly upon us. With the 94th regular season of the National Football League set to begin on Thursday, September 5 between the defending champion Baltimore Ravens and the Denver Broncos, it's about that time to prepare the barbecues, put the beers on ice, and get those fantasy drafts going.
But while September 5 is fast approaching, for some football fans the next several weeks can feel like an eternity. If you fall under that category, maybe you might benefit from sitting down and checking out some of top films ever made about football.
Take a look at the eight top grossing football films of all time, unadjusted for inflation:
8. Varsity Blues – Paramount Pictures ($52.9 Million)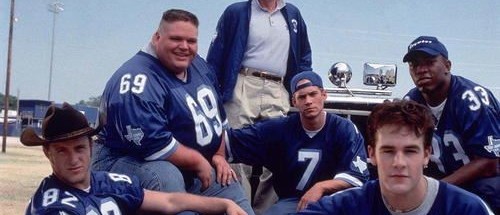 Paramount Pictures' (NASDAQ:VIA) football drama Varsity Blues came out in 1999 and stars James Van Der Beek, Amy Smart, Paul Walker, and Jon Voight. The film tells the story of a small-town high school football team and the pressures of performing in a football-obsessed community.
Budgeted at an estimated $16 million, the film performed better than expected making $52 million at the domestic box office despite mixed reviews from critics. And if you're like me, you probably remember the film best for slow motion shots set to "My Hero" by the Foo Fighters.
But all jokes aside, something about the film ultimately connected with audiences and many aspects of the film went on to become a part of the pop culture lexicon.