The total amount of money spent on lobbying declined for the second year in a row last year, but major technology companies are still using their cash to influence officials.
In 2012, several of the biggest names known to Americans made the top 10 list of technology lobbying expenditures. According to the Senate Office of Public Records and Statista, Google (NASDAQ:GOOG) came in first with $16.5 million, representing a 70 percent increase over 2011. The search engine giant spent more than Microsoft (NASDAQ:MSFT) and Hewlett-Packard (NYSE:HPQ) combined.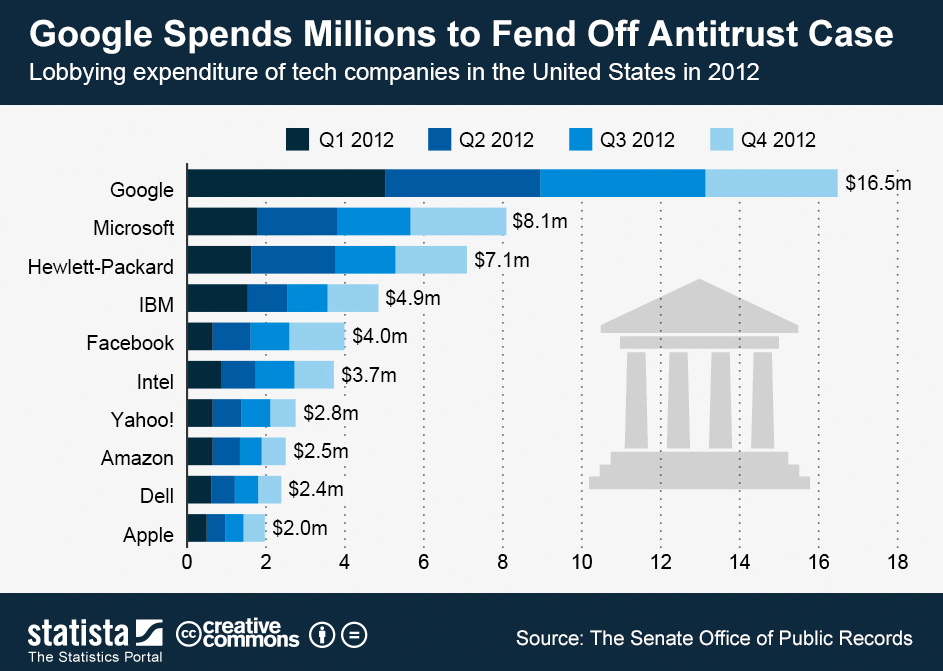 Statista explains, "When you dominate a market the way Google dominates the search market, you will almost inevitably face antitrust allegations sooner or later. For the past two years, Google has been subject of an FTC investigation because of the way the company allegedly arranges search results to feature its own products more prominently. Last month the Federal Trade Commission closed the case, concluding that Google had not violated antitrust or anti-competition laws. The ruling was a major victory for the search giant, who avoids a sizable fine but committed to voluntarily change some of its practices. In its quest to fend off the allegations, Google had massively upped its lobbying expenditure in the past two years."
Well-known names such as IBM (NYSE:IBM), Facebook (NASDAQ:FB), and Intel (NASDAQ:INTC) spent $4.9 million, $4.0 million, and $3.7 million in lobbying costs last year, respectively. Meanwhile, other companies such as Yahoo! (NASDAQ:YHOO), Amazon.com (NASDAQ:AMZN), Dell (NASDAQ:DELL), and Apple (NASDAQ:AAPL) each spent less than $3 million.
Don't Miss: How Big is E-Commerce?