The world continues to become more connected with devices by each major product launch, with tablets and smartphones attracting eyeballs like never before in the consumer electronic industry.
Unlike the PCs, mobile devices are showing strong signs of growth. According to a recent report from IDC, smartphone shipments jumped 46.1 percent to 722.4 million last year, compared to 494.5 million in 2011. In 2012, tablet shipments surged 78.4 percent to 128.3 million, compared to 72 million a year earlier.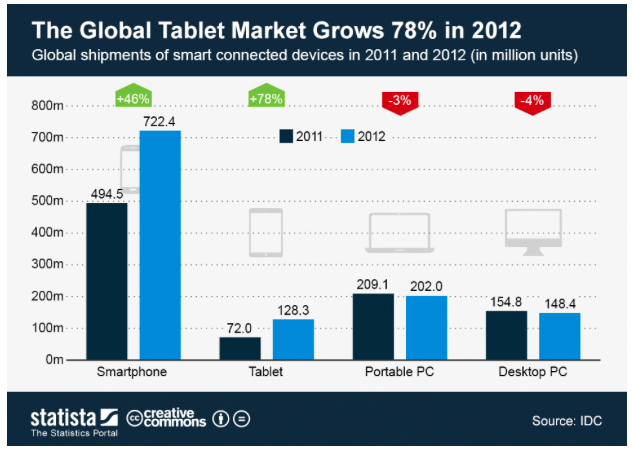 As the chart above shows, smartphones and tablets were the only categories in the smart-connected device market to post gains. Portable and Desktop PCs fell 3.4 percent and 4.1 percent on a year-over-year basis, respectively. Taking all four categories into consideration, total world shipments increased 29.1 percent to 1.2 billion in 2012, compared to 930.4 million in 2011.
"Smartphones and tablets are growing at a pace that PCs can't realistically keep up with because of device prices and to some extent disposability," explained Ryan Reith, program manager, Worldwide Mobile Device Trackers at IDC. "The average selling price for a tablet declined 15.0 percent in 2012 to $461, and we expect that trend to continue in 2013. However, smartphone APSs are still lower at $408. We expect smartphones to continue to carry a shorter life cycle than PCs for the years to come based on price, use case, and overall device size."