Apple (NASDAQ:AAPL):
When asked about Apple, the largest publicly traded company by market capitalization, he reiterates his $425 price target and has a "very high conviction" that the tech giant breaks below $500 a share.
U.S. Dollar:
Gundlach believes Warren Buffett (NYSE:BRKA) is correct in that the U.S. should receive an AAAA credit rating if possible. The dollar finished 2012 basically unchanged and remarkably steady.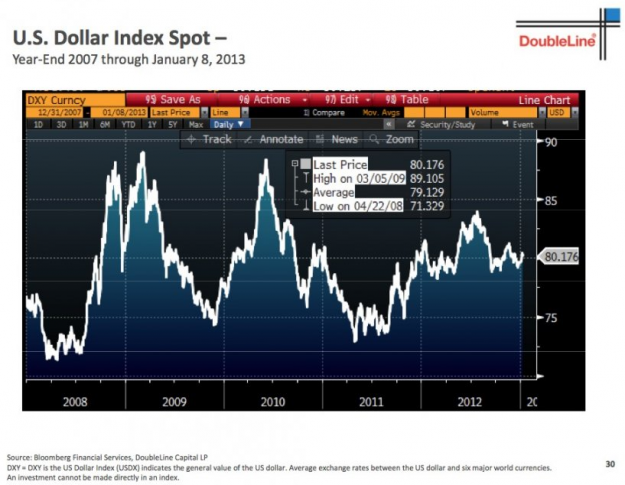 Precious Metals:
The price of gold (NYSEARCA:GLD) has been in consolidation mode, but Gundlach says, "It's very unlikely to go sideways for the next 14 months like the last 14 months." If gold breaks its long-term momentum, the price of the precious metal could correct to $1,300 or $1,400 an ounce. However, he says if gold goes higher, it could easily go way up. On a rise, you want to be in silver (NYSEARCA:SLV) due to the higher beta.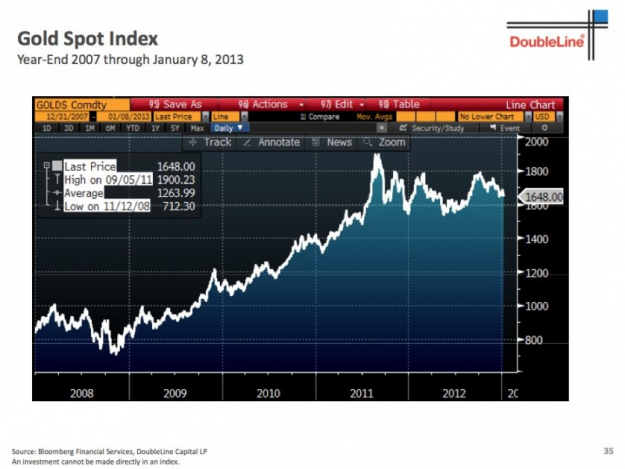 The unemployment picture is still ugly…