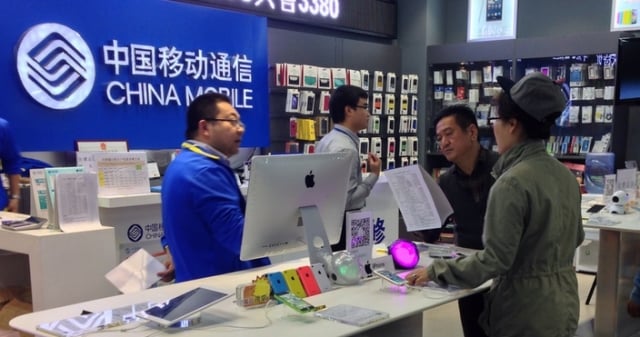 In yet another sign that the official launch of the iPhone on China Mobile's (NYSE:CHL) network is imminent, photos of a prominent Apple (NASDAQ:AAPL) display at a China Mobile store have emerged online, reports 9to5Mac. The photographs were taken by an American expatriate living in China who posted the images on his "PRC and Me" blog. As noted by the blogger, the store not only featured lots of promotional materials for Apple's devices, but a table display with actual iPads and iPhones
According to the blogger, the China Mobile store where the Apple display was spotted is located in Shenzhen's Futian district. The promotional posters in the store advertised a $723 price for the iPhone 5S and a $558 price for the iPhone 5C, although it was unclear if those prices included a China Mobile service contract.
The blogger also noted that, "Prior to today, Samsung (SSNLF.PK) and home-grown Android brands have had the world's largest mobile carrier all to themselves. Now (at least in the store I photographed) a majority of their ad-space has been handed to Apple."
Although it is unclear if the iPhones pictured were available for immediate purchase or just preorder, the images offer further confirmation that an Apple-China Mobile deal is on the verge of being announced. Although China Mobile and Apple have both declined to officially confirm a distribution deal, China Mobile has already activated various promotional pages for its new 4G services and the iPhone 5S. At the time of this writing, China Mobile's iPhone page counter has already surpassed the 52,000 mark.