American Express Company (NYSE:AXP): Current price $59.66
It appears that two chief executives of major firms are now on the short list of candidates to join President Obama's cabinet, says The Hill. Chief Executive Kenneth Chenault of American Express could be nominated as Treasury Secretary, although the  current White House chief of staff Jack Lew is thought to have the inside track. Xerox Corporation (NYSE:XRX) Chief executive Ursula Burns could be tapped as Secretary of Commerce, The Hill added. However, Energy Secretary Steven Chu might retire, Transportation Secretary Ray LaHood could also exit, and the President must find a new head for the Environmental Protection Agency.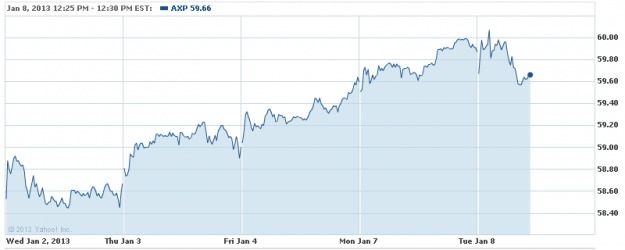 Save time and make money with our LOWEST ADVERTISED PRICE EVER to help you achieve your financial goals in 2013. This is a LIMITED TIME OFFER, so get your Stock Picker Newsletter now!