When the CNBC anchor tried to get Icahn to reveal whether he is long Herbalife, Icahn replied, "I'm not going to talk about my Herbalife position because you want to bully me…I don't give a damn about what you want to know. I want to talk about what I want to talk about…You can say what the hell you want. I'm going to talk about what Ackman just said about me, not about Herbalife. I'll talk about Herbalife when I goddamn want to."
It appears that Icahn was not ready to talk about Herbalife, because he still wanted to build his position and show Ackman who's boss. According to the SEC filing, Icahn started accumulating shares of Herbalife shortly before Christmas. However, he added more than 12 million shares, mostly through options, after the CNBC rant.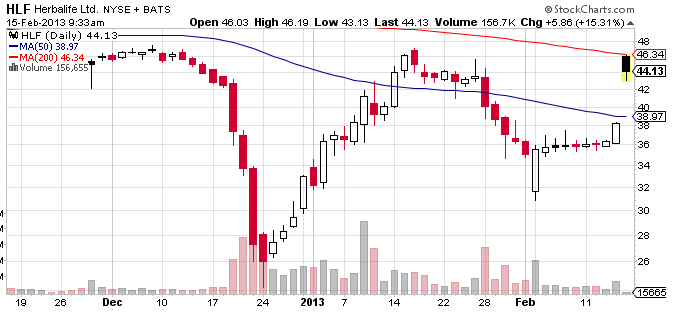 As the chart above shows, a short squeeze is well on its way. Herbalife shares surged more than 20 percent in late Thursday trading and continue to trade higher today. Other companies with similar business models such as Avon Products (NYSE:AVP) and Nu Skin (NYSE:NUS) also climbed higher.
Building speculation that the best is yet to come in this saga, the SEC filing states that Icahn intends "to have discussions with management of the Issuer regarding the business and strategic alternatives to enhance shareholder value, such as a recapitalization or a going-private transaction."
Don't Miss: Does Corporate America Still Have a Bad Reputation?