Goldman Sachs (NYSE:GS) has been the focus of attention recently.  Last week, Greg Smith made public his resignation from the firm in a now well-known New York Times (NYSE:NYT) op-ed piece.  He explained that five different managing directors referred to their own clients as "muppets."  He also said that Goldman now has a culture where "it's purely about how we can make the most possible money off of them."  Now, a recent bold call by a Goldman analyst has investors wondering if Goldman is once again trying to make the most money off of investors.
Don't Miss: Airport Inflation Soaring Higher
In a 40-page market report to clients on Wednesday, Goldman said it is an once-in-a-lifetime opportunity to buy stocks.  "The prospects for future returns in equities relative to bonds are as good as they have been in a generation," wrote Peter Oppenheimer, the firm's chief global equities strategist.  "Given current valuations, we think it's time to say a 'long good bye' to bonds and embrace the 'long good buy' for equities as we expect them to embark on an upward trend over the next few years."  On Wednesday, the Dow Jones Industrial Average (NYSEARCA:DIA) closed at 13,124.62, only 7 percent below its all-time closing high of 14,164.53 in October 2007.  Meanwhile, the S&P 500 (NYSEARCA:SPY) closed at 1,402.89, about 10 percent below its all-time closing high.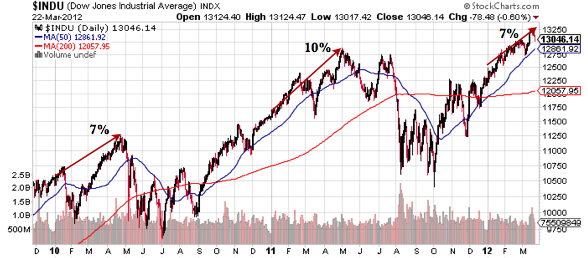 As the chart above shows, the Dow has enjoyed strong market rallies in the early part of the most recent calendar years.  In 2010, the Dow rallied 7 percent from January to the beginning of May, but suffered a 13 percent correction by July 2010.  A similar pattern is seen in 2011, as the Dow rallied 10 percent from January to May, but lost steam and closed the year virtually unchanged.  Currently, the Dow and S&P 500 have gained about 7 percent and 11 percent, year-to-date.  However, with both indices on a three-day losing streak and major stocks such as Caterpillar, Inc. (NYSE:CAT), Procter & Gamble Co. (NYSE:PG) and McDonald's Corp. (NYSE:MCD) struggling, some investors are wondering if Goldman's bullish call is marking another top in equities.
Judging by the most recent data from the Investment Company Institute, it appears that investors do not share Goldman's bullishness.  Domestic equity retail funds experienced an outflow of almost $2.9 billion, representing the fourth consecutive week of outflows.  However, investors continue to pile into bonds, which saw an increase of $9 billion for the week ended March 14.
While it may be too early to declare a market top for the current rally that has taken place in equities this year, history suggests the market is due for a pullback.  On the positive though, Goldman appears to be putting in a top in "muppet" name calling.  According to people familiar with the matter, Lloyd Blankfein, chief executive officer of Goldman, has started to scan through internal emails for "muppet" and other derogatory names being used to describe clients.  In the United States, "muppet" may bring back pleasant memories of Sesame Street, but in Britain "muppet" is slang for stupid person.
Investor Insight: Student Debt Bubble Hits $1 Trillion
To contact the reporter on this story: Eric McWhinnie at staff.writers@wallstcheatsheet.com
To contact the editor responsible for this story: Damien Hoffman at editors@wallstcheatsheet.com