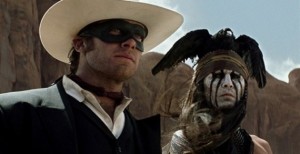 The Walt Disney Co.'s (NYSE:DIS) The Lone Ranger is set to become one of the summer's biggest box office flops, as it is estimated to bring in just $45 million during the July 4th holiday period from Wednesday through Sunday. The $225 million film was thoroughly  dominated by Comcast Corp.'s (NASDAQ:CMCSA) animated Universal film Despicable Me 2, which made an estimated $142.1 million in the same period on a budget of only $76 million. The enormous box office disaster of The Lone Ranger is leading many to speculate what the future of Hollywood filmmaking will look like.
Last month, George Lucas and Steven Spielberg predicted the "implosion" of the film industry due to Hollywood's recent focus on blockbusters — or "tentpole" films as they've come to be known. "There's going to be an implosion where three or four or maybe even a half-dozen megabudget movies are going to go crashing into the ground, and that's going to change the paradigm," Spielberg explained.
The idea is that while there have been various big-budget flops, they have have been spread out enough so that the damage was mitigated through time. Disney's 2012 sci-fi blockbuster John Carter was one of the biggest flops of all-time, but the film did not ultimately have a huge impact on Disney as they've since had enormous success with The Avengers and other films. The question is: what if two films like John Carter and The Lone Ranger were released around the same time and performed similarly?
Lucas and Spielberg believe it could bring an entire studio down.