With Washington bickering over issues such as the fiscal cliff and debt ceiling, pessimism among small business owners remains near the worst levels in recorded history.
The National Federation of Independent Business, the leading nonprofit small business association representing small and independent businesses, said its Small Business Optimism Index edged 0.50 points higher to 88.0 in December, compared to 79.5 in the previous month. The November sentiment was the eighth worst reading since the organization started keeping track of the monthly index in 1986.
Although Congress eventually reached a mini-deal on the fiscal cliff, which includes raising taxes and delaying spending cuts, the game of chicken between the two political parties did not help businesses feel better. Higher taxes across the nation also serves as a headwind for economic activity.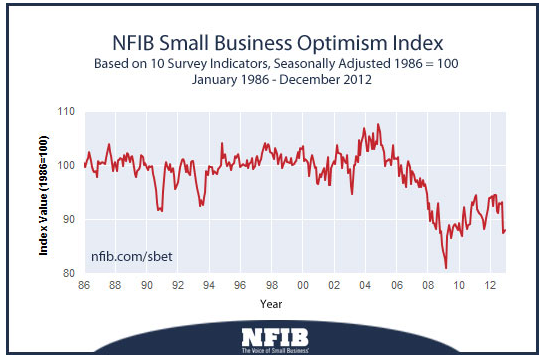 Bill Dunkelberg, chief economist at the NFIB, explains, "Congress played chicken right up to the end of the year, leaving small-business owners with no new information about the economy's future—no sense of how much their taxes would increase or if the economy would go over the now infamous cliff. The eleventh hour 'deal' has brought marginal certainty about tax rates and extenders and will provide some relief to owners, but it certainly doesn't guarantee a more positive forecast for the economy." He also adds, "And let's not forget what is looming on the horizon: a debate over the debt limit and a regulatory avalanche of historic proportions about to spill out into the country. Happy New Year."
The December Optimism Index is at its second-lowest level in over two years…
Start 2013 better than ever by saving time and making money with your Limited Time Offer for our highly-acclaimed Stock Picker Newsletter. Get our fresh Feature Stock Pick now!