Netflix, Inc. (NASDAQ:NFLX): Current price $98.2375
Netflix, Inc. took a further step to join the television establishment to the semi-annual gathering of television press when they presented three new programs they plan for the months ahead. The three programs include the comedy "Derek," focusing on a nursing home and starring the comedian Ricky Gervais, the supernatural thriller "Hemlock Grove," and a reboot of the former Fox comedy "Arrested Development." (Netflix tweeted that "Arrested Development" will feature 14 episodes and will be released in May.) Netflix did not present its most anticipated show "House of Cards," which debuts on February 1.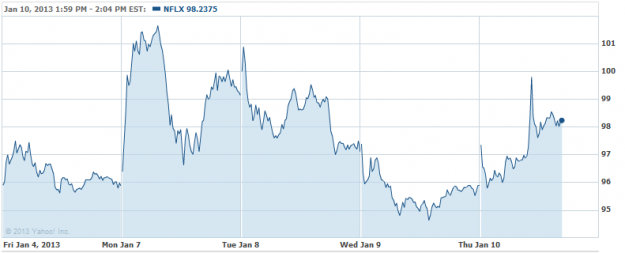 Start 2013 better than ever by saving time and making money with your Limited Time Offer for our highly-acclaimed Stock Picker Newsletter. Get our fresh Feature Stock Pick now!