The Boeing Company (NYSE:BA): Current Price $76.10
Boeing's 787 Dreamliner has not thus far been okayed by the Civil Aviation Administration of China, which now has delivery of the jet on hold, says Reuters. Presently, China Southern Airlines (NYSE:ZNH) has orders for 10 Dreamliner B787s and had expected delivery of its first plane last year. Similarly, Hainan Airlines, which anticipated the delivery of five B787 airliners in 2012, also had to push back its schedule.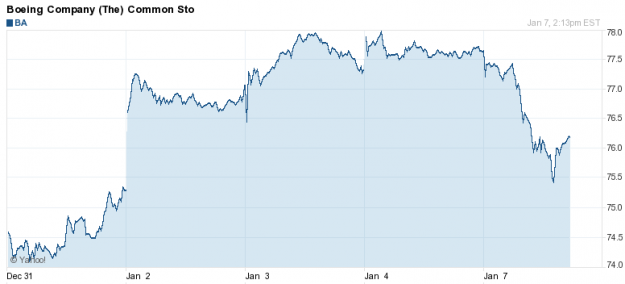 Save time and make money with our LOWEST ADVERTISED PRICE EVER to help you achieve your financial goals in 2013. This is a LIMITED TIME OFFER, so get your Stock Picker Newsletter now!