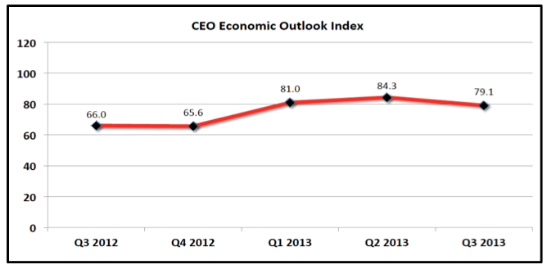 There is no doubt that the U.S. economy is still struggling to make a convincing recovery from the financial crisis. Asset prices have been pushed higher by the Federal Reserve while the labor market is failing to keep pace with population growth. Adding insult to injury, the latest report on sentiment from chief executive officers predicts a decline for certain areas of the economy over the next six months.
The Business Roundtable, which is an association of chief executive officers of leading U.S. companies, recently published its third-quarter CEO Economic Outlook Survey. The survey was completed between August 16 and September 6, and provides a forward-looking view on the economy.
As the chart above shows, the economic index for the survey fell to 79.1 in the current quarter, compared to 84.3 in the prior quarter — the best reading over the past year. The current long-term average is about 79.3.