With shares of Riverbed Technologies (NASDAQ:RVBD) trading at around $16.56, is RVBD an OUTPERFORM, WAIT AND SEE or STAY AWAY? Let's analyze the stock with the relevant sections of our CHEAT SHEET investing framework:
C = Catalyst for the Stock's Movement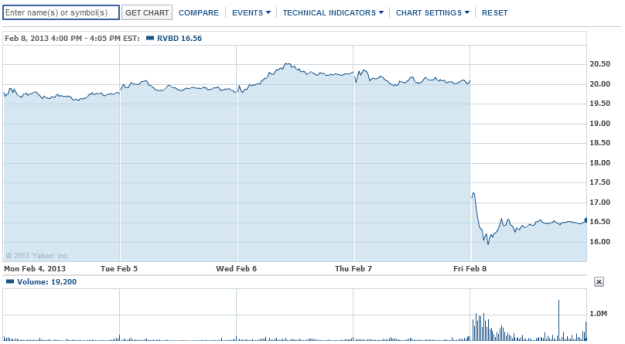 As you might already know, Q4 EPS came in at $0.03 and Q4 revenue came in at $237 million. Both beat estimates, and revenue was a 17 percent increase year-over-year. The problem was weak guidance. However, lowering Q1 EPS by two pennies, and revenue expectations coming in at the low end of the range for analyst expectations, isn't reason to throw in the towel. If you really stop and think about it, it's amazing how Wall Street's habit of looking at companies on such a short-term and microscopic level is absurd. Riverbed's revenue still increased significantly year-over-year, and if you're looking at the big picture, then this is a steady yet unexceptional company that will continue to grow in the future.
There are some other positives to consider. While FY2012 EPS didn't impress, FY2012 revenue was up 15 percent compared to 2011. Furthermore, Riverbed generated more than $217 million in free cash flow in 2012. The big concern here isn't the company's future prospects, but the economy's future prospects. During the financial crisis of 2008/2009, this stock was beaten down in a severe way. If we find ourselves in that type of environment in the future, then this isn't the place you want to be. However, let's hope the sky doesn't fall and let's look at Riverbed on a basis of a normal-functioning economy, or at least an economy that pretends it's functioning normally…