It is also important to note the Federal Reserve does not operate in a vacuum. Central banks across the globe are engaged in a massive currency war. When converted to U.S. dollars, the four major central banks have expanded their balance sheets to more than $13 trillion, according to Hayman Capital. In comparison, the amount was $3 trillion 10 years ago. Central banks now account for at least a quarter of all global gross domestic product, a sharp increase from only 10 percent in 2002. Is Ben Bernanke really ready to wave the white flag of currency devaluation defeat?
Late last year, the Federal Reserve announced QE3, which was followed by QE4 only three months later. In total, the central bank is purchasing $85 billion in bonds per month, a move that has pushed its balance sheet to record highs. According to the latest statistical release, the Federal Reserve's balance sheet is now above $3 trillion and looks set to test $4 trillion within a year.
In a Bloomberg survey of 44 economists, the Federal Reserve's bond buying is expected to reach $1.14 trillion by the first quarter of 2014. Meanwhile, Morgan Stanley believes policy makers will keep bond-buying programs in place for another two years, which could push the Federal Reserve's balance sheet to a whopping $5 trillion.
Here's how the Dow, S&P, Gold and Silver each traded on Wednesday: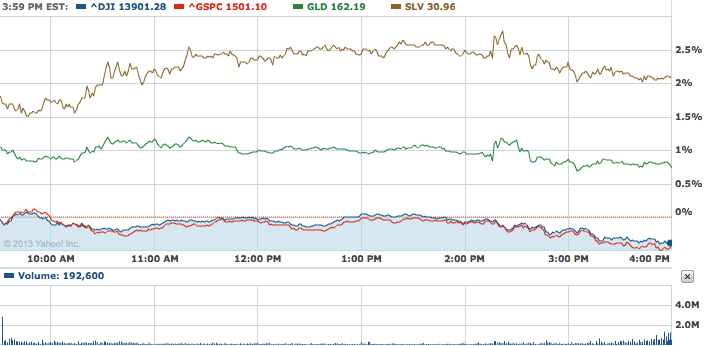 Investor Insight: Gold: Is The Bull Market Really Over?
If you would like to receive professional analysis on miners and other precious metal investments, we invite you to try our premium service free for 14 days.
Disclosure: Long EXK, AG, HL, PHYS