Investors should be careful about Alcoa's standing as a leading indicator. Before the most recent quarterly results, the company reported earnings above the mean earnings per share estimate nine times out of the past 16 quarters. In those nine quarters, 73.6 percent of companies in the S&P 500 also reported earnings above EPS estimates on average, according to research by FactSet.
In the seven times that Alcoa came in below the mean earnings per share estimate, 72.6 percent of companies in the S&P 500 beat those estimates on average. The slight difference shows that Alcoa has "little predictive value in determining the earnings performance of the remaining companies in the index," the FactSet report said.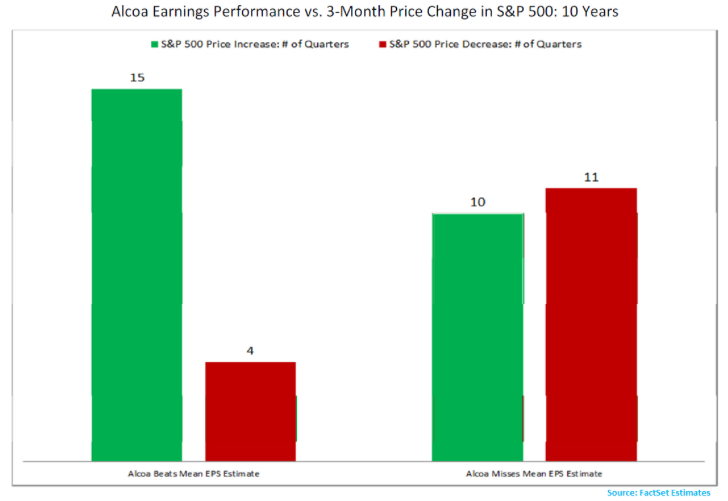 As seen in the chart above, in terms of performance relative to price, the stock market generally does better when Alcoa beats on earnings. The S&P 500 increased about 80 percent of the time over the next three months when Alcoa reported better-than-expected earnings in recent quarters. When Alcoa missed estimates, the S&P 500 climbed higher only about 50 percent of the time.
Looking ahead, expectations for the current earnings season are very low.