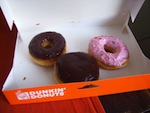 Dunkin Brands Group's (NASDAQ:DNKN) Dunkin Donuts, a brand once rooted firmly on the East Coast and behind the face of its beloved mascot, Fred the Baker, is switching directions. Literally. Although the company's core business currently operates in New England, New York, and other eastern markets including Pennsylvania and Florida, the chain is preparing to expand west, eventually preparing itself to break into the lucrative California market. And it is not only switching direction in terms of where it sells, but also, what it sells.
Doughnut lovers, do not fear, the powdered sugar and glazed pastries will still be here. However, according to Paul Carbone, Dunkin's chief financial officer, "We are a beverage company." And Dunkin's new national media campaign will reflect that, as it will focus on its drinks rather than any of its food offerings.
Ever since 2006 when Dunkin Donuts first introduced its new slogan, 'America Runs on Dunkin,' consumers could predict where the company was headed — unless they designated Americans' fuel as doughnuts, rather than coffee. And since then, the chain has had its eye on Starbucks Corp (NASDAQ:SBUX), hoping to attract coffee addicts who don't want the pay the high price that the coffee giant often requires. Coffee and other drinks now account for 58 percent of Dunkin's reported sales in 2012, aligning with Carbone's assertion that its beverage business has the highest margin of all its sales categories.
And whose thirst does Dunkin' Donuts especially want to quench? California's. The company is heading west, and it'll bring its new media campaign with it. Dunkin's 7,400 US stories will only grow as it continues to break western ground. The coffee and breakfast chain made its first western mark in 2005 when it broke ground in Las Vegas, and Carbone expects it to have 15,000 more outlets up and running within the next few years.