In the latest sign of the times, the Internet is serving as a bigger role in the travel industry. The latest estimates place online travel spending at a record high last year.
According to comScore, a leader in measuring the digital world, U.S. travel e-commerce sales reached $103 billion in 2012, representing a 9 percent gain from the previous year. It is the first time sales have ever topped the $100 billion mark.
Broken down into categories, Air Travel tops the list and accounted for $66.5 billion, or 65 percent of overall travel spending. This represents a 10 percent increase from 2011. Hotel Reservations and Car Rentals accounted for $19.4 billion and $9.7 billion, respectively. Travel packages also grew 10 percent year-over-year to contribute $5.1 billion to total travel spending.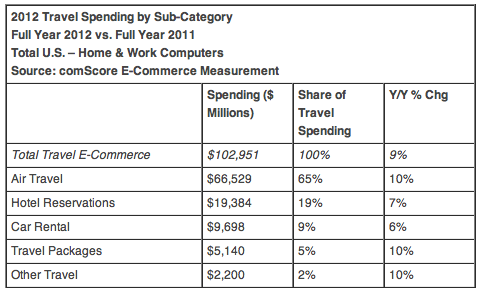 "Travel is a leading online commerce category, and despite being a pioneer in the sector 15 years ago it is still growing at nearly double-digit growth rates and remains very competitive," said John Mangano, vice president of comScore Marketing Solutions for Retail and Travel. "With the online channel driving such a high percentage of dollars within the broader travel industry, understanding the competitive landscape is essential to determining the most effective sales and marketing strategies."
Which airlines are winning…