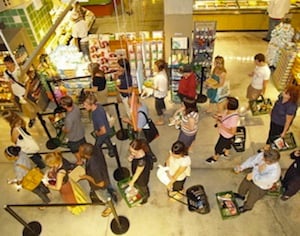 Last week, the U.S. Department of Commerce reported higher-than-expected retail sales figures and stoked optimism for more accelerated growth in the near future. The data even prompted Barclays to upwardly revise its predictions for second-quarter gross domestic product from a 1.1 percent annual rate to a 1.8 percent annual rate.
The figures released from both the International Council of Shopping Centers and Goldman Sachs Retail Chain Store Sales Index and Redbook for the past week's retail sales also supported that optimism, as consumer spending accounts for approximately 70 percent of all economic activity in the United States.
Expanding slightly from last week's week-over-week drop of 2.7 percent, the ICSC-Goldman Store Sales Index edged up 0.3 percent in the past week. On a year-over-year basis, the index grew by 2.5 percent, a modest increase from last week's 2.2 percent gain. For the month, the ICSC is predicting growth between 3 percent and 3.5 percent.