Here's your Cheat Sheet to the most important housing econ releases from the week, and how the biggest stocks reacted…
Existing Home Sales
The housing market continues to benefit from low mortgage rates and inventory levels, as existing-home sales edged slightly higher last month.
On Thursday, the National Association of Realtors announced that total existing-home sales, which are completed transactions that include single-family homes, town-homes, condos, and co-ops, increased 0.4 percent to a seasonally adjusted annual rate of 4.92 million units in January. It was the second highest rate of sales since November 2009 and a 9.1 percent improvement from the 4.51 million-unit pace a year earlier.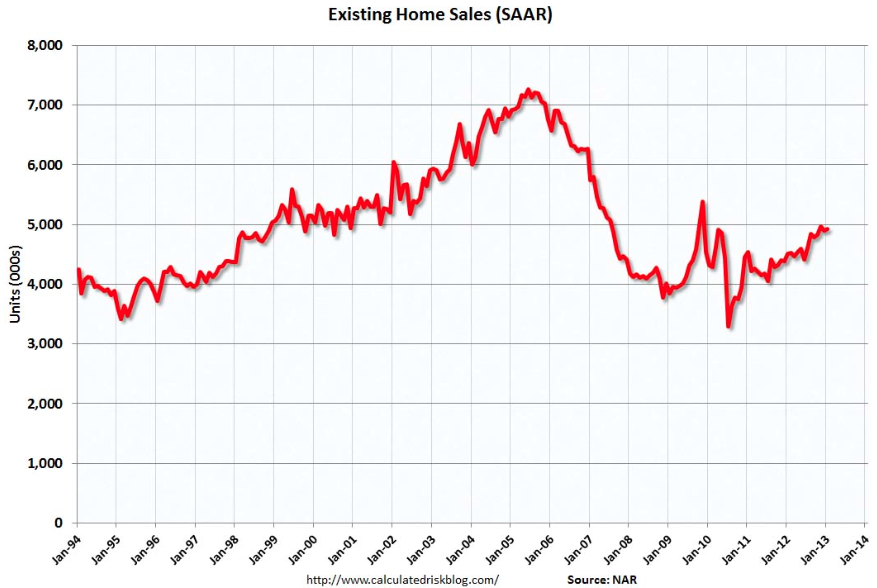 Analysts and economists polled by Reuters and Bloomberg both expected a 4.9 million-unit pace in existing-home sales. The December rate was revised downwardly to 4.9 million units.
Tight inventory is still a major factor in the so-called housing "recovery" story. Lawrence Yun, NAR chief economist, explains, "Buyer traffic is continuing to pick up, while seller traffic is holding steady. In fact, buyer traffic is 40 percent above a year ago, so there is plenty of demand but insufficient inventory to improve sales more strongly. We've transitioned into a seller's market in much of the country."
Total housing inventory dropped almost 5 percent to 1.74 million existing homes available for sale at the end of January. This equals a 4.2-month supply at the current sales pace, down from 4.5 months in December, and the lowest housing supply since April 2005.
Compared to last year, listed inventory is 25.3 percent lower, when there was a 6.2-month supply. Raw unsold inventory is at its lowest level since December 1999.
According to Freddie Mac, the national average commitment rate for a 30-year conventional fixed-rate mortgage increased to 3.41 percent in January, compared to a record low 3.35 percent.
However, home prices are still receiving support. The national median exiting-home price for all housing types was $173,600 last month, a 12.3 percent jump from a year earlier and the strongest month since November 2005. Home prices have now increased for 11 consecutive months on a year-over-year basis.
Don't Miss: Are You Preparing Enough for Retirement?