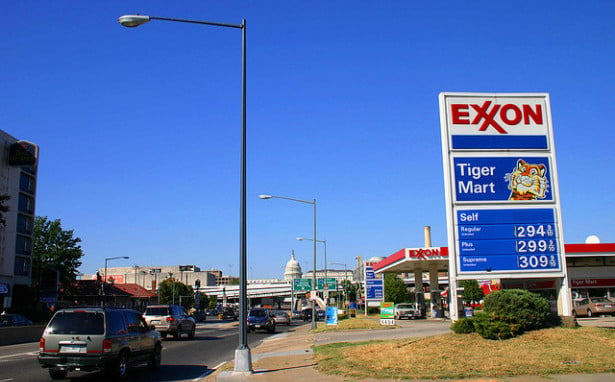 During President Barack Obama's tenure in the White House, soaring production of natural gas from horizontal drilling and hydraulic fracking has pushed supplies to record highs in each of the past four years. Now, the United States produces more natural gas than it can use, and as a result, prices have plummeted to approximately $4 per million British thermal units. With producers clamoring for Obama to approve liquid natural gas exportation, his administration has given been given an opportunity to make an important decision regarding the United States' energy future.
On Wednesday, Rex Tillerson, Chief Executive Officer of Exxon Mobil (NYSE:XOM) — the largest natural gas producer in the United States — made a public appeal, arguing that government delays of natural gas export permits only hurt the United States. At an event hosted by the Asia Society, which was focused on Asian energy security, he noted that such delays are costing U.S. companies million of dollars a day and giving foreign rivals looking to boost exports an opportunity.
"It's a very competitive marketplace. It's not like people are just going to stand at our door like panting dogs just waiting for us to give this (liquified natural gas) to them," Tillerson said, according to Reuters.
When supply eclipses demand, as in the current situation, the only way to increase prices is to reduce the supply or increase demand. Reducing the supply is not an easy proposition for natural gas producers; their contracts on wells often require them to keep drilling in order to maintain the less. But demand for natural gas in the U.S. appears to have reached a ceiling. Therefore, the best way to boost demand is to access new markets abroad, especially ones where the price of natural gas is much higher.