Since going public last year, Facebook (NASDAQ:FB) has received a great deal of criticism over its lacking presence in mobile. When the social media giant debuted on the Nasdaq in May, lackluster ad revenue from mobile devices drew red flags. Now, mobile is a growing accomplishment on Facebook's timeline, but expenses are on the rise.
After Wednesday's closing bell, the world's largest social media company released earnings for only the third time as a public company. Facebook posted a profit of $64 million (3 cents per share) in the fourth quarter, compared to $302 million (14 cents per share) a year earlier. Excluding share-based compensation and tax items, earnings came in at 17 cents per share, topping estimates by 2 cents.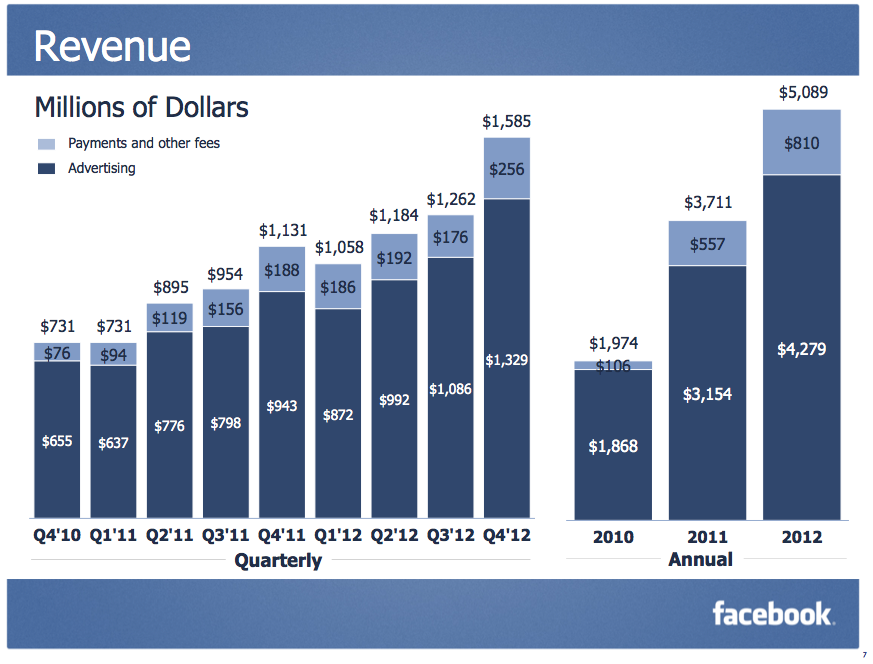 The bottom line was helped by a 40 percent jump in revenue to $1.585 billion, compared to $1.131 billion in the fourth quarter of 2011. The consensus on Wall Street was for $1.53 billion. Revenue from advertising surged 43 percent to $1.33 billion, representing 84 percent of total revenue. Revenue from payments and other fees amounted to $256 million.
Mobile revenue improves…