Thanks to improved apps on Google's (NASDAQ:GOOG) Android and Apple's (NASDAQ:AAPL) iOS, more people are using Facebook on mobile everyday than desktop. Mobile revenue in the fourth quarter represented 23 percent of total advertising revenue. At the beginning of 2012, Facebook had zero ads on mobile. The addition of ads in the News Feed also boosted mobile revenue.
On the conference call, Mark Zuckerberg, co-found and chief financial officer, explains, "We're coming out of a year with a strong foundation and lot of momentum. Just last week, comScore put out a report saying that Facebook is now 23 percent of all time spent on apps in the U.S. And one of the next biggest apps is Instagram at 3 percent. So put together we're now more than a quarter of the time spent in apps. Today there's no argument. Facebook is a mobile company."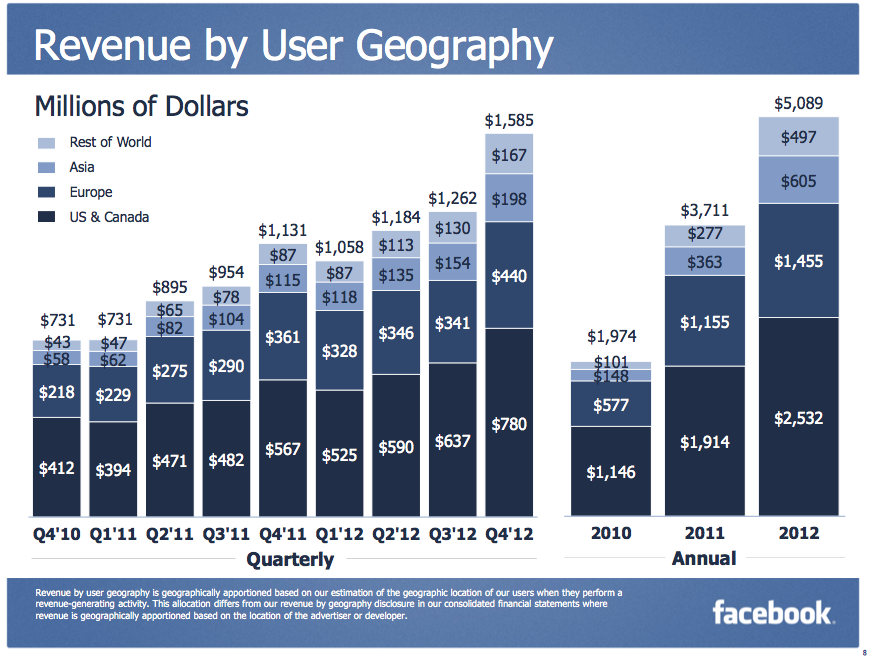 As the chart above shows, revenue has now increased for the past four quarters, with the United States and Canada leading the way with $780 million. Europe and Asia brought in $440 million and $198 million, respectively.
What about expenses…