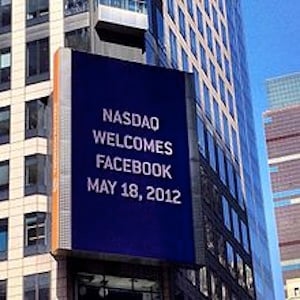 The U.S. Security and Exchange Commission has approved Nasdaq OMX's (NASDAQ:NDAQ) proposal to pay $62 million to compensate brokers who were affected by its mishandling of Facebook's (NASDAQ:FB) stock market debut.
Facebook's May 2012 Initial Public Offering was a botched event that burned investors and prompted numerous lawsuits against the company, its exchange, and its underwriters. The resulting fallout pushed shares down from their IPO price of $38 per share by more than 50 percent — a dip that the stock has yet to fully recover from — and created a lasting concern about the company's profitability in the minds of both investors and analysts.
The first signs of trouble for the social network were the delays and malfunctions on the Nasdaq Stock Market. On May 18, within 30 minutes of the pricing of the first public offering, the market operator announced a delay confirming trades from the opening auction with the brokers that placed orders. This error left traders confused about how many shares they owned, and as a result, many orders were placed multiple times.
Chief Executive Officer Robert Greifeld has already admitted that its software was poorly designed, hence the atypically large compensation payout…